Please read before visiting and using any content on or published by  www.truefairnews.com/truefair.news  (collectively, "site" or "website", "social media content on various platforms", "video content on this and various platforms", "images/charts/data on various platforms", "print media").

By using this site, the User agrees to the terms and conditions in force at the time of use.
These terms and conditions may be changed at any time and without warning. The User is therefore advised to consult the terms and conditions at each visit to the site.
This website, and all personal information collected from users of this site, is owned solely by "TRUEFAIR NEWS" (TFN) carrying and operating its business from the United States of America. In these Website Terms references to "TFN", "we", "us", "our", are references to "TRUEFAIR NEWS, U.S.A ".
GENERAL RULES AND DEFINITIONS
1.1 If you choose to use www.truefairnews.com (the "Site"), and any of the features of the Site, including but not limited to RSS feeds, APIs, and Software (as defined below) and other downloads (collectively, the "Services"), you will be agreeing to abide by all of the terms and conditions of these Terms of Service between you and TFN.
1.2 We reserve the right to change, add or remove portions of these Terms of Service at any time without notification to you. If TFN decides to change these general terms and conditions, we will post the changed terms and conditions on the Website. Such changes shall become effective immediately upon posting. It is your responsibility to review these Terms of Service prior to each use of the Site.
1.4 We may change, suspend or discontinue any aspect of the Services at any time, including the availability of any Services feature, database, or content. We may also impose limits on certain features and services or restrict your access to parts or all of the Services without notice or liability.
CONTENT ON THE SERVICES
2.1 The contents of the Services, including the Site, are intended for your personal, non-commercial use. All materials published or available on the Services (including, but not limited to text, photographs, images, illustrations, designs, audio clips, video clips, "look and feel," metadata, data, or compilations, all also known as the "Content") are protected by copyright, and owned or controlled by TFN  or the party credited as the provider of the Content. TFN also owns copyright in the selection, coordination, compilation, and enhancement of such Content ("Arrangement"). You shall abide by all additional copyright notices, information, or restrictions contained in any Content accessed through the Service.
2.2 The Services and Content are protected by copyrights, trademarks, patents, trade secrets, database rights, sui generis rights and other intellectual or proprietary rights therein pursuant to U.S. and international laws. You may not modify, publish, transmit, participate in the transfer or sale of, reproduce (except as provided in Section 2.3 of these Terms of Service), create new works from, distribute, perform, display (including framing and inline linking), communicate to the public or in any way exploit, any of the Content (or its Arrangement) or the Services (including Software) in whole or in part.
2.3 You may download or copy the Content and other downloadable items displayed on the Services for your personal use only, provided that you maintain all copyright and other notices contained therein. Copying or storing of any Content for other than personal use is expressly prohibited without prior written permission from TRUEFAIR NEWS, or the copyright holder identified in the copyright notice contained in the Content.
USER GENERATED CONTENT: SUBMISSIONS INCLUDING COMMENTS, READER REVIEWS AND MORE
3.1 If you upload, post or submit any content on the Service, you represent to us that you have all the necessary legal rights to upload, post or submit such content and it will not violate any law or the rights of any person. You shall not upload to, or distribute or otherwise publish on to the Services any libelous, defamatory, obscene, pornographic, abusive, or otherwise illegal material. You shall not impersonate anyone else or otherwise misrepresent your identity, affiliation or status. You agree not to provide material and misleading information knowingly and with intent to defraud. You shall not upload to, or distribute or otherwise publish on to the Services any malware, viruses, spyware, or other malicious software or files to the Services. You shall not use automated means to upload to, or distribute or otherwise publish onto, the Services any content.
Be courteous. You agree that you will not threaten or verbally abuse other members, use defamatory language, or deliberately disrupt discussions with repetitive messages, meaningless messages or "spam."
Use respectful language. Like any community, the online conversation flourishes only when our members feel welcome and safe. You agree not to use language that abuses or discriminates on the basis of race, religion, nationality, gender, sexual preference, age, region, disability, etc. Hate speech of any kind is grounds for immediate and permanent suspension of access to all or part of the Services.
Debate, but don't attack. In a community full of opinions and preferences, people always disagree. TFN encourages active discussions and welcomes heated debate on the Services, but personal attacks are a direct violation of these Terms of Service and are grounds for immediate and permanent suspension of access to all or part of the Service.
3.2 The Services shall be used only in a non-commercial manner. You shall not, without the express approval of TFN, distribute or otherwise publish any material containing any solicitation of funds, advertising or solicitation for goods or services.
3.3 You acknowledge that any submissions you make to the Services (i.e., user-generated content including but not limited to: comments, forum messages, reviews, text, video, audio and photographs, as well as computer code and applications) (each, a "Submission") may be edited, removed, modified, published, transmitted, and displayed by TFN and you waive any rights you may have in having the material altered or changed in a manner not agreeable to you. Submissions made to the Services may also be included in our RSS feeds and APIs and made available for republishing through other formats.
3.4 You grant TFN a perpetual, nonexclusive, world-wide, royalty-free, sub-licensable license to the Submissions, which includes without limitation the right for TFN, or any third party it designates, to use, copy, transmit, excerpt, publish, distribute, publicly display, publicly perform, communicate to the public, create derivative works of, host, index, cache, tag, encode, modify and adapt (including without limitation the right to adapt to streaming, downloading, broadcast, mobile, digital, thumbnail, scanning or other technologies) in any form or media now known or hereinafter developed, any Submission posted by you on or to the Services or any other website owned by TFN, including any Submission posted on or to the Services through a third party.
3.5 You are solely responsible for the content of your Submissions. However, while TFN does not and cannot review every Submission and is not responsible for the content of these messages, TFN reserves the right to delete, move, or edit Submissions that it, in its sole discretion, deems abusive, defamatory, obscene, in violation of copyright or trademark laws, in violation of these Terms of Service, or otherwise unacceptable.
3.6 By making a Submission, you are consenting to its display and publication on the Site and in the Services and for related online and offline promotional uses.
PROHIBITED USE OF THE SERVICES
You may not access or use, or attempt to access or use, the Services to take any action that could harm us or a third party. You may not use the Services in violation of applicable laws or in violation of our or any third party's intellectual property or other proprietary or legal rights. You further agree that you shall not attempt (or encourage or support anyone else's attempt) to circumvent, reverse engineer, decrypt, or otherwise alter or interfere with the Services, or any content thereof, or make any unauthorized use thereof. Without TFN's prior written consent, you shall not:
(i)  Access any part of the Services, Content, data or information you do not have permission or authorization to access or for which TFN has revoked your access;
(ii) use robots, spiders, scripts, service, software or any manual or automatic device, tool, or process designed to data mine or scrape the Content, data or information from the Services, or otherwise access or collect the Content, data or information from the Services using automated means;
(iii) use services, software or any manual or automatic device, tool, or process designed to circumvent any restriction, condition, or technological measure that controls access to the Services in any way, including overriding any security feature or bypassing or circumventing any access controls or use limits of the Services;
(iv) cache or archive the Content (except for a public search engine's use of spiders for creating search indices);
(v) take action that imposes an unreasonable or disproportionately large load on our network or infrastructure; and
(vi) do anything that could disable, damage or change the functioning or appearance of the Services, including the presentation of advertising.
Engaging in a prohibited use of the Services may result in civil, criminal, and/or administrative penalties, fines, or sanctions against the user and those assisting the user.
DISCLAIMERS AND LIMITATIONS OF LIABILITY
Your access to and use of the Services or any Content are at YOUR OWN RISK. You understand and agree that the Services are provided to you on an "AS IS" and "AS AVAILABLE" basis. Without limiting the foregoing, to the maximum extent permitted under applicable law, THE TRUEFAIR NEWS (TFN ENTITIES are TFN founders, officers, directors, employees, agents, representatives, partners) DISCLAIM ALL WARRANTIES AND CONDITIONS, WHETHER EXPRESS OR IMPLIED, OF MERCHANTABILITY, FITNESS FOR A PARTICULAR PURPOSE, OR NON-INFRINGEMENT.
TFN make no warranty and disclaim all responsibility and liability for: (i) the completeness, accuracy, availability, timeliness, security or reliability of the Services or any Content; (ii) any harm to your computer system, loss of data, or other harm that results from your access to or use of the Services or any Content; (iii) the deletion of, or the failure to store or to transmit, any Content and other communications maintained by the Services; and (iv) whether the Services will meet your requirements or be available on an uninterrupted, secure, or error-free basis. No advice or information, whether oral or written, obtained from TFN or through the Services, will create any warranty not expressly made herein.
The Services may contain links to third-party websites or resources. You acknowledge and agree that the TFN is not responsible or liable for: (i) the availability or accuracy of such websites or resources; or (ii) the content, products, or services on or available from such websites or resources. Links to such websites or resources do not imply any endorsement by TFN of such websites or resources or the content, products, or services available from such websites or resources. You acknowledge sole responsibility for and assume all risk arising from your use of any such websites or resources.
TO THE MAXIMUM EXTENT PERMITTED BY APPLICABLE LAW, TFN SHALL NOT BE LIABLE FOR ANY INDIRECT, INCIDENTAL, SPECIAL, CONSEQUENTIAL OR PUNITIVE DAMAGES, OR ANY LOSS OF PROFITS OR REVENUES, WHETHER INCURRED DIRECTLY OR INDIRECTLY, OR ANY LOSS OF DATA, USE, GOOD-WILL, OR OTHER INTANGIBLE LOSSES, RESULTING FROM (i) YOUR ACCESS TO OR USE OF OR INABILITY TO ACCESS OR USE THE SERVICES; (ii) ANY CONDUCT OR CONTENT OF ANY THIRD PARTY ON THE SERVICES, INCLUDING WITHOUT LIMITATION, ANY DEFAMATORY, OFFENSIVE OR ILLEGAL CONDUCT OF OTHER USERS OR THIRD PARTIES; (iii) ANY CONTENT OBTAINED FROM THE SERVICES; OR (iv) UNAUTHORIZED ACCESS, USE OR ALTERATION OF YOUR TRANSMISSIONS OR CONTENT. IN NO EVENT SHALL THE AGGREGATE LIABILITY OF TFN EXCEED ZERO DOLLARS (U.S. $0.00). THE LIMITATIONS OF THIS SUBSECTION SHALL APPLY TO ANY THEORY OF LIABILITY, WHETHER BASED ON WARRANTY, CONTRACT, STATUTE, AND TORT (INCLUDING NEGLIGENCE) OR OTHERWISE, AND WHETHER OR NOT TFN HAVE BEEN INFORMED OF THE POSSIBILITY OF ANY SUCH DAMAGE, AND EVEN IF A REMEDY SET FORTH HEREIN IS FOUND TO HAVE FAILED OF ITS ESSENTIAL PURPOSE.
COPYRIGHT USE AND POLICY
6.1 Subject to the provisions of Clause 2.3 of this terms of use, Permission is hereby granted, free of charge, to any person obtaining a copy of this software and associated documentation files (the "Software"), to deal in the Software without restriction, including without limitation the rights to use, copy, modify, merge, publish, distribute, sublicense, and/or sell copies of the Software, and to permit persons to whom the Software is furnished to do so, subject to the following conditions:
The above copyright notice and this permission notice shall be included in all copies or substantial portions of the Software.
THE SOFTWARE IS PROVIDED "AS IS", WITHOUT WARRANTY OF ANY KIND, EXPRESS OR IMPLIED, INCLUDING BUT NOT LIMITED TO THE WARRANTIES OF MERCHANTABILITY, FITNESS FOR A PARTICULAR PURPOSE AND NONINFRINGEMENT. IN NO EVENT SHALL THE AUTHORS OR COPYRIGHT HOLDERS BE LIABLE FOR ANY CLAIM, DAMAGES OR OTHER LIABILITY, WHETHER IN AN ACTION OF CONTRACT, TORT OR OTHERWISE, ARISING FROM, OUT OF OR IN CONNECTION WITH THE SOFTWARE OR THE USE OR OTHER DEALINGS IN THE SOFTWARE.
6.2 TFN respects the intellectual property rights of others and expects users of the Services to do the same. We will respond to notices of alleged copyright infringement that comply with applicable law and are properly provided to us. If you believe that your Content has been copied in a way that constitutes copyright infringement, please provide us with the following information: (i) a physical or electronic signature of the copyright owner or a person authorized to act on their behalf; (ii) identification of the copyrighted work claimed to have been infringed; (iii) identification of the material that is claimed to be infringing or to be the subject of infringing activity and that is to be removed or access to which is to be disabled, and information reasonably sufficient to permit us to locate the material; (iv) your contact information, including your address, telephone number, and an email address; (v) a statement by you that you have a good faith belief that use of the material in the manner complained of is not authorized by the copyright owner, its agent, or the law; and (vi) a statement that the information in the notification is accurate, and, under penalty of perjury, that you are authorized to act on behalf of the copyright owner.
We reserve the right to remove Content alleged to be infringing without prior notice, at our sole discretion, and without liability to you. In appropriate circumstances, TFN shall restrict access to use the services of any infringer. Send notice of alleged copyright infringement appearing on the Services to the below mentioned email information.
VARIATION
We may revise these terms and conditions from time-to-time. Please check this page regularly to ensure you are familiar with the current version.
ENTIRE AGREEMENT
These terms and conditions, together with our Disclaimer Policy, constitute the entire agreement between you and us in relation to your use of our website, and supersede all previous agreements in respect of your use of this website.
LAW AND JURISDICTION
This notice will be governed by and construed in accordance with the laws of [Georgia], U.S and any disputes relating to this notice shall be subject to the exclusive jurisdiction of the courts of [Georgia], U.S.
OUR CONTACT DETAILS

If you have any questions about these Terms, please contact us at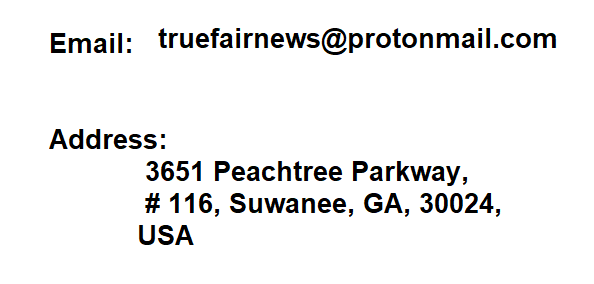 update Nov 6th,2020.