Getting a Date has to be one of the toughest things in the world, and when you get a date what do you do next? Watching a nice movie with your special one would be an amazing idea; you might end up in her arms by the end of the movie. Isn't love the greatest emotion there is? What else will make be worth your time other than a romantic comedy? Some people refer to them as "snacking movies," however snacking also includes crying your eyes out while watching a movie and eating an excessive amount of popcorn with your special one.
If you plan to binge on these movies with your date, then they can be beneficial to your relationship if you're trying to build one. The best thing about this list of movies is that the couples fall I love and there are also scenes where you might start laughing like two crazy people, you know they say if you can make her laugh then you got a chance. Ladies, this one is for you too! If you're looking for ways to make him crush over you, then you need to show him signs and it can be by showing him movies of love. You don't always need the fancy lavish restaurant date to impress the other person, sometimes even watching a movie in your pajamas is better than having a 100$ meal at an expensive restaurant.
A Bottle of Wine, Some Pasta, a Bucket of Popcorn and your ready to go, make sure the connection I perfect for the Date Night. Now Imagine everything is set, and you're right there searching for the perfect movie for the night and as you keep scrolling, I'm sure she's getting more and more irritated. So, instead of you reading reviews and scrolling for hours, we have put down a list of Top 10 Movies for a Perfect Date Night. Please be comfortable and keep your snacks at one hand distance, and make sure you enjoy the Date Night.
10. The Wrong Missy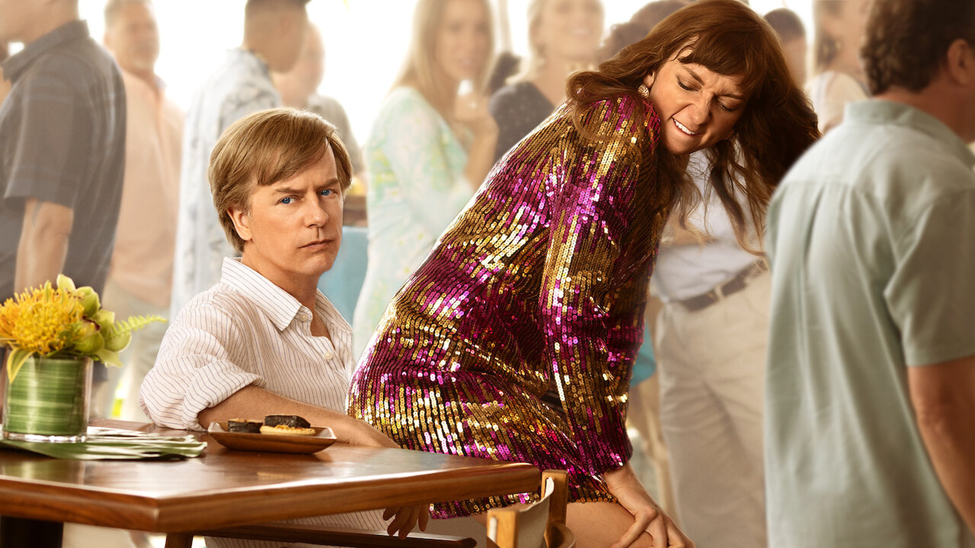 This is one of those Netflix Movies that will make your Date Night full of shared giggles and stares, it has David Spades who is literally one of the funniest people in the world. The story stars when he first goes out on dates with two Missy's and later when he had to invite one on a boat trip, he accidentally invites the wrong one. The Missy he invites is a crazy chick who only wants to party, yet despite all the chaos, it ends up being a wise choice.
Last time they met he had to jump out of a bathroom window to escape her, but now he can't run away. Because eventually their crazy matches each other's crazy, it's a good movie if you're not looking for something too romantic and serious. The Movie about a blind date where one guy is just a plain person and the girl is someone too wild who can get drunk form her nostrils and talk about sex whenever and wherever. This would be an amazing Movie for your Date Night, if you both love funny movies about couples.
9. About Time
This Movie is about two greatest mysteries in the world, which are Time and Love. They say Time is an illusion but then what would you describe love as? You can watch this movie with your date if you want to turn into something which can get emotional, she/he may end up in your arms weeping. But hey! Isn't that a win situation, the concept of the movie is unique where you combine time travel fueled by power of Love. Tim has the ability to travel through time, but he hasn't yet mastered it. What transpires when he utilizes time travel to meet Mary and is successful in doing so. The feels hit you during the movie so make sure there's an extra tissue box near you, for people who are looking for something serious, romantic and dramatic for their Movie Date then this might be the one.
8. To all the Boys I've loved before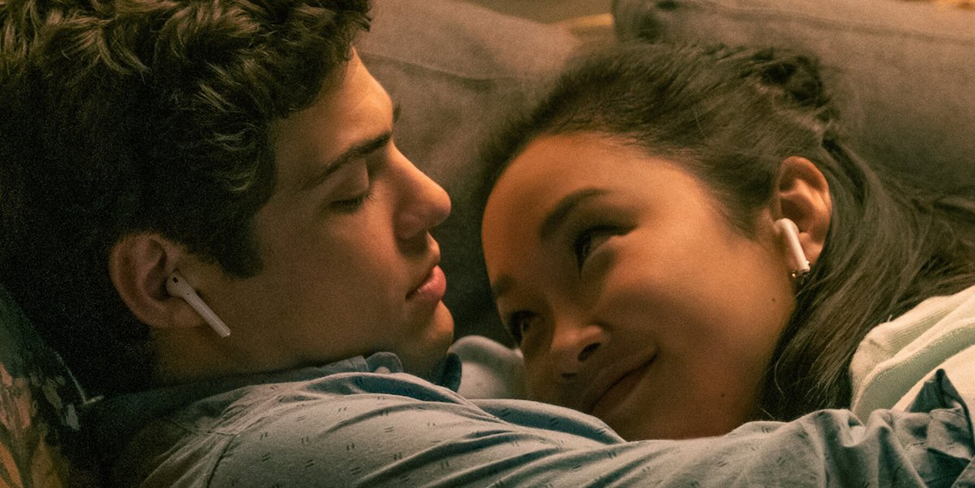 Netflix is like the hub for quirky teenage high school romcoms, it has everything starring Noah Centino and at this point I'm sure they have locked him in their basement preparing him for another Chocolate boy role. In this movie they create a fake relationship contract and then later they fall in love with each other, I know its cheesy. but that's what romcoms are here for. This movie became one of the most viewed movies by youngsters on Netflix, the cast of the movie have done a wonderful job on their acting.
This is a sweet wholesome movie which displays how people fall in love despite setting boundaries up for themselves. When it comes to love all our six senses stop working, and you finally have to give in despite the struggle.  Noah Centino has done a wonderful job playing himself and Momona Tamada is a cutie you don't want to miss, so hop on this movie and enjoy it on your sweet date.
7. Set it Up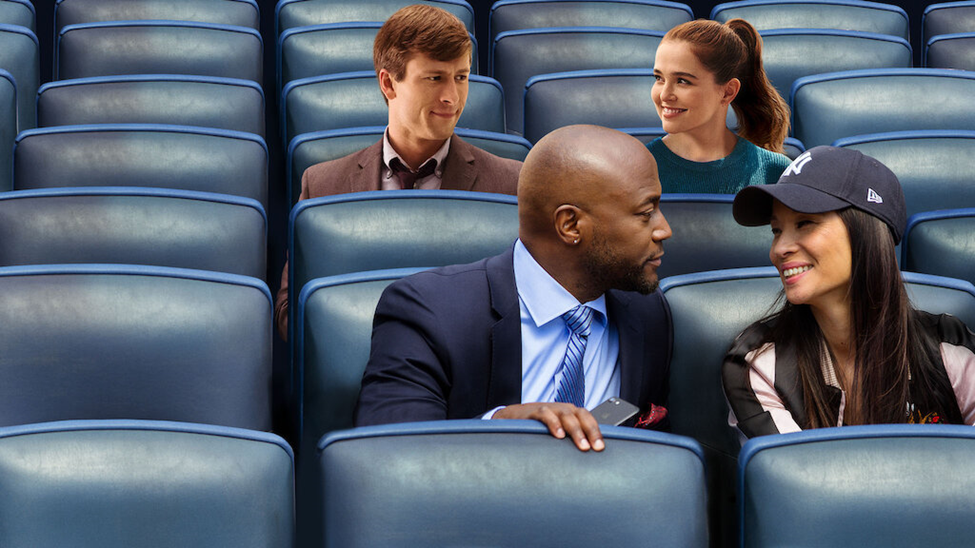 Remember that friend who's single and whenever they see an attractive person, they go like "Hey will you Set me Up?" This movie is fun and similar to the concept and thus the name "Set it Up". A Company is somewhere the Bosses enjoy their time, meanwhile their employees are on the brink of ending their lives and killing their bosses. Here two underpaid and overworked assistants decide to get rid of their tough bosses, no they didn't kill them but they did something worse! They set them up with each other's boss on a blind date, this was a technique for them to get off their backs. This is a funny and flirty movie which will make your date night fun, it's a short movie so you can hop on to another one from our list of Top 10 Movies for a Perfect Date Night. This movie has its own melody to it and Glen Powell and Zoey Deutch have done a fabulous job playing their respective characters.
6. Naked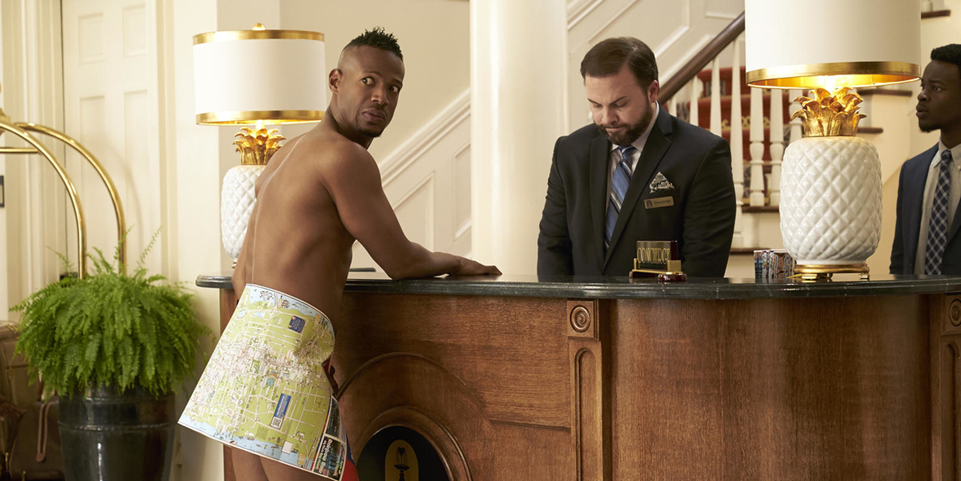 Getting Married is one of the greatest moments of your life, you remember the day and reminisce on it for the rest of your life. There are people like the Best Man who helps the groom to have a comfortable evening, they are in charge of even handing the ring to the groom during the ceremony. But the best man in this surely someone who would mess up your wedding, you might regret or even find yourself stranded naked in a remote place. So, the Best Man in this movie take the groom on a wild night before he is given over to the other side.
The Next day the Groom finds himself naked in an elevator and that too on his wedding day! He tries to escape the situation but something keeps him stuck in this infinite loop of nakedness, reliving a moment like this again and again is surely frustrating for the groom. If you're looking for something hardcore funny then this movie is perfect for you, it has its moments of joy and laughter.
5. Murder Mystery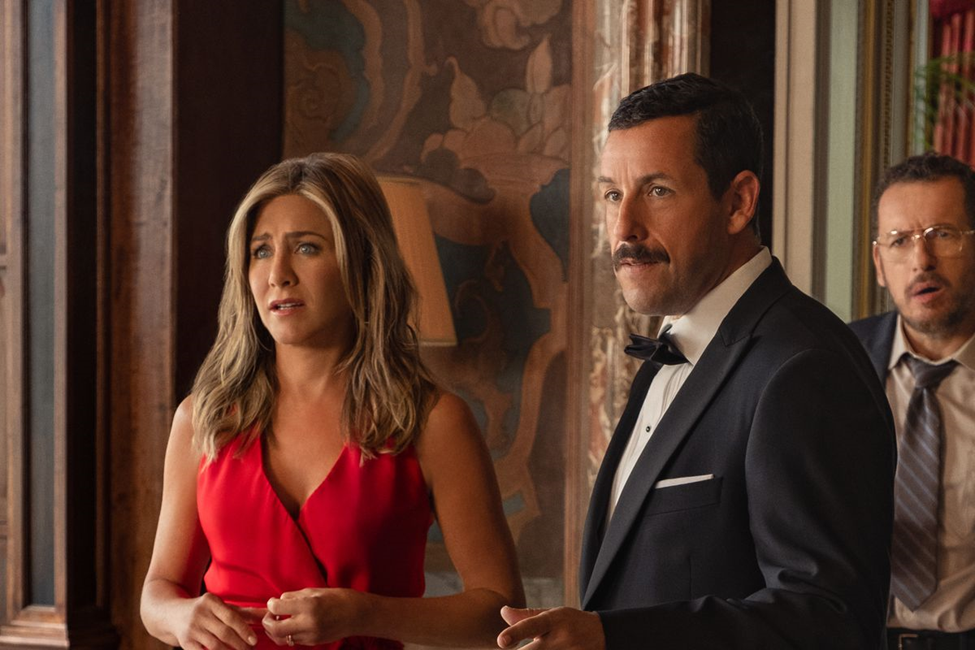 Now when it comes to Comedy, Adam Sandler is one of the funniest guys on this earth. He has done several hits during his time and still keeps giving more. On top of that you got our very own friend Rachel, yes Jennifer Aniston is starring in this one here. This movie might have been easy to shot as Jennifer and Adam are real life best friends, and what's better then having two actors with amazing chemistry for a Romantic Comedy. The Story starts when this mature couple is invited by a Billionaire on their Yatch, and they go on happily hoping to have a free vacation and lavish time.
But the fun is over when they found out that the Billionaire is dead! And they are one of the prime suspects on the boat. Adam's character obviously shares some very stupid ways of escaping this hoopla, but they face it together and you will see when you watch the movie. It's a light hearted comedy by our two veteran actors, Adam Sandler and Jennifer Aniston are amazing in this one and the nostalgic people are going to love it.
4. Holidate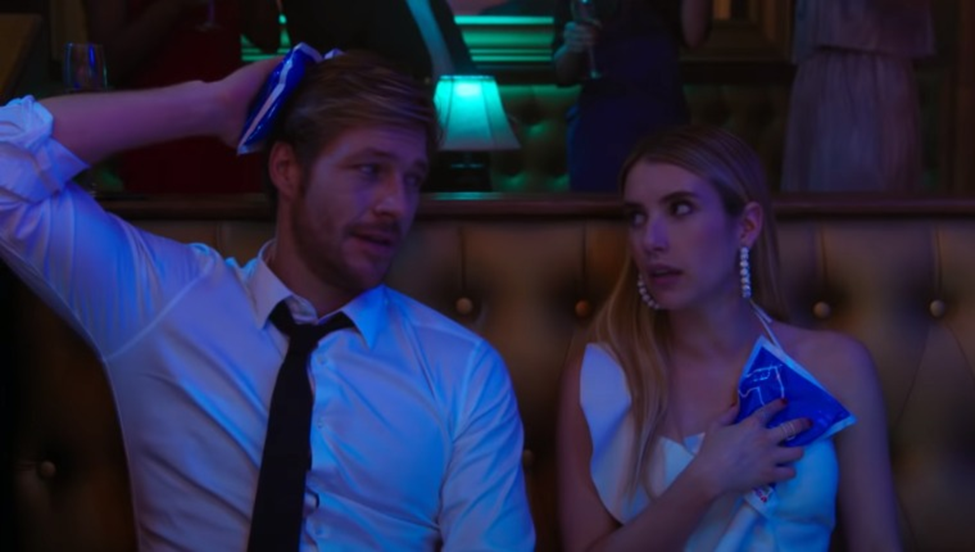 Isn't it terrible when you're single and you see couples snuggling and kissing everywhere during the festivities. New Years Night is the night where people kiss each other and you're just kissing your spoon or beer mug, that's a very sad story and it will make a good turns evil story. The characters meet on a Christmas Night where everything is going bad for them, its one of the most beautiful days in the world. They click up with each other and then come to a crazy decision, which is to be each other platonic halves during any festivals and holidays throughout the year.
But just like every other Romantic Comedy they start seeing hearts on each other heads, and eventually fall down deep in love. They both are scared to confess their love as they believe they should follow the rules they decided on, and keep side eying each other the whole time. If you're looking for something wholesome and cute then Holidate is the right one, its one of the Top 10 Movies for a Perfect Date Night.
3. The Breakers Uperrers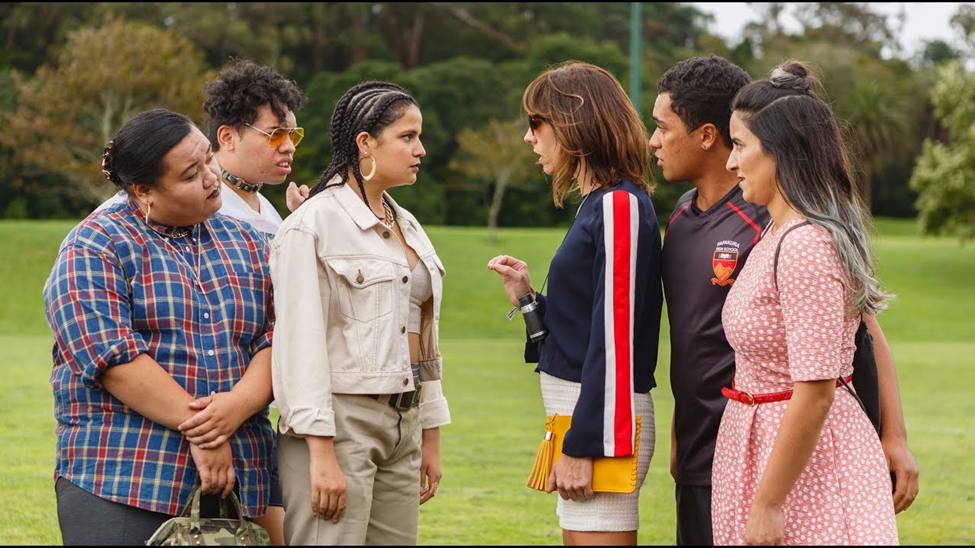 In today's world getting together and breaking up is a piece of cake, nowadays people also date for like 1 to 2 Days. This story is about a couple of best friends who start brainstorming on a business idea, they think about the huge breakup scene going on. So, they think what if they help the couples to break up easily and get paid in return. The business is booming baby and everything is fine, then one of them grows conscience out of nowhere and things start changing drastically from there. This Kiwi Movie tackles an all-new concept which is amazing, they hit the perfect spot and this is why it makes it one of the Top 10 Movies for a Perfect Date Night. The Movie Industry in New Zealand is so small, and im sure everyone knows each other there.
2. Silver Linings Playbook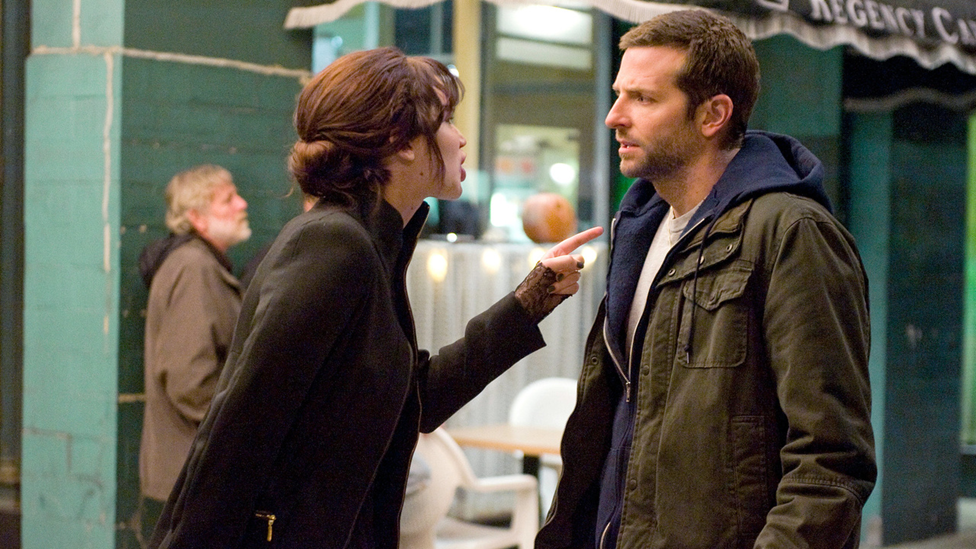 A Movie that handles mental health stigma of both male and females, it shows how two dysfunctional people who get discarded by the society for being mentally poor than the average human being. Despite being crazy in their own loving ways, the characters of Jennifer Lawrence and Bradley Cooper take you on an emotional ride by the characters they play. They are so terrific that you might forget that there is an absolute legend in the movie, Robert Di Nero.
We love how Bradley Cooper is not one bit shy while ordering a glass of milk and Raisin Bran on his first date. Rejection hurts we all know, but Jennifer's characters saying "Hate the fact that you wore a football jersey to a dinner, but you can fuck me if you turn the lights off" and get rejecting badly is a personal hell. He deserved that slap for rejecting her though, you will love this new take on romantic movies which shows that not every couple has to look perfect and that you can match each other's crazy and fall in love. This movie would be one of the Top 10 Movies for a Perfect Date Night, but we wish your first date isn't as bad as theirs in the diner.
1.Before Sunrise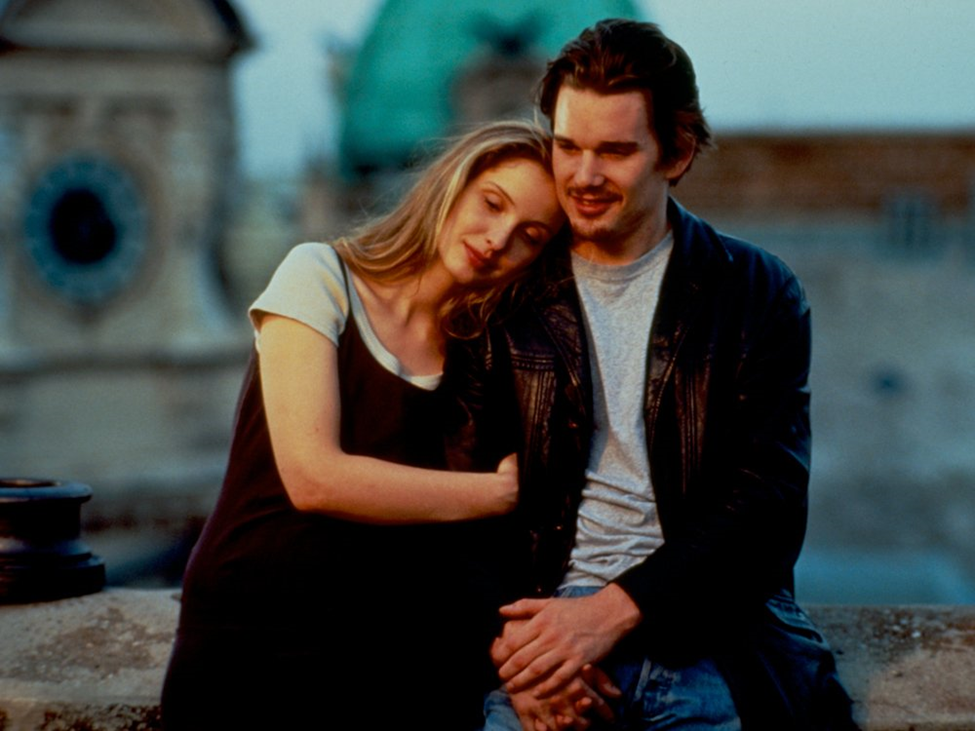 A Movie which just feels like a dream sequence in which two strangers meet each other defying laws of time, this masterpiece by Richard Linklater is still a soft corner for today's youth. This movie is the best love poem every filmed, we dare you to bring something better than this. Conversations are evocative and Before Sunrise feels like someone secretly following a young beautiful couple on their nigh out in Europe. The Story starts when Jesse asks Celine if she wants to join him explore Vienna, to which she agrees and there this legendary story starts. You find poets writing poems like "Daydream Illusion, Limousine Eyelash" for a couple of bucks, you see them dancing near a boy's window where he plays his piano, the experience of this movie is unexplainable.
Love means a lot of things for different people, but for us it's when Jesse and Celine are in the record store listening booth and they can't stop quickly glancing at each other. Resisting to kiss each other and smiling, they are both enchanted by each other's presence. They have just been with each other for few hours but they chemistry you feel between them is surreal, it would be the best movie on the perfect date night with your special one. If its your first date night then its even better, as Before Sunrise has the concept of the first timers and you might get your first kiss that night. It is no doubt the best one in the list of Top 10 Movies for a Perfect Date Night