Colorado 3 is a deeply red district since 2010 where the Republican won by range of 3 to 14 points.  In 2016, the margin was the highest at 14 points,2018 by 8 points and in 2020 by 6 points , Ms. Lauren Boebert won her race.  She has been quite vocal critic of the Democrats with national level recognition by her coverage on  main stream media.
Nov 9th, 2022 at 9:59PM, Ms.Lauren Boebert's in Colorado House District 03 race showed the Democrat Adam Frisch leading by 64 votes with 95% of the votes counted with each at 50%. Mr. Frisch was at 156,746 to Ms. Boebert at 156,682. It appears that the counting stopped in Colorado until today Nov 10th at 3:59AM when last checked.
Because the race was so close and by Colorado election law, this triggers a recount.  At Nov 10th 12:27 PM, there seems to be an update where she has taken a 0.2 points lead over Mr. Frisch when the vote tally start to move.
Media article from Denver 7 and other outlets have called this race too close to call at 95% reporting.  Even though this district has been a deeply red district. Ms. Boebert won by 6 points.   No democrat has won this district in 10 years.  President Obama's 2008 was the last Democrat to be elected from this district and after that since 2010, it has never elected a democrat.

Republican Primary Challenge:
Ms.  Boebert had a Republican challenger Don Corram, who attempted to primary her. He lost by 32 points, 64% vs 32%.  He got 44K votes to her 86K.  
Democrat Enthusiasm based on Primary
The Republican's outvoted the Democrats by a factor of 2. Total number of Democrat votes were 60K, the Republican voted 130K in the Colorado House District 03. Congresswoman Lauren Boebert's votes (86K)  from the Republican primary is greater than the total number of votes the Democrats voted in the primary which was 60K.  Mr. Adam Frisch only got 25,751 votes 42.4%, narrowly beating Sol Sandoval 25,462 (41.9%) by  289 votes.   The primary was on July 26th,2022, show that he was not a strong Democrat contender and will have to bring not only his own party people together.

Campaign Metrics
Cong. woman Lauren Boebert raised double what Mr.  Frisch from within Colorado according to FEC.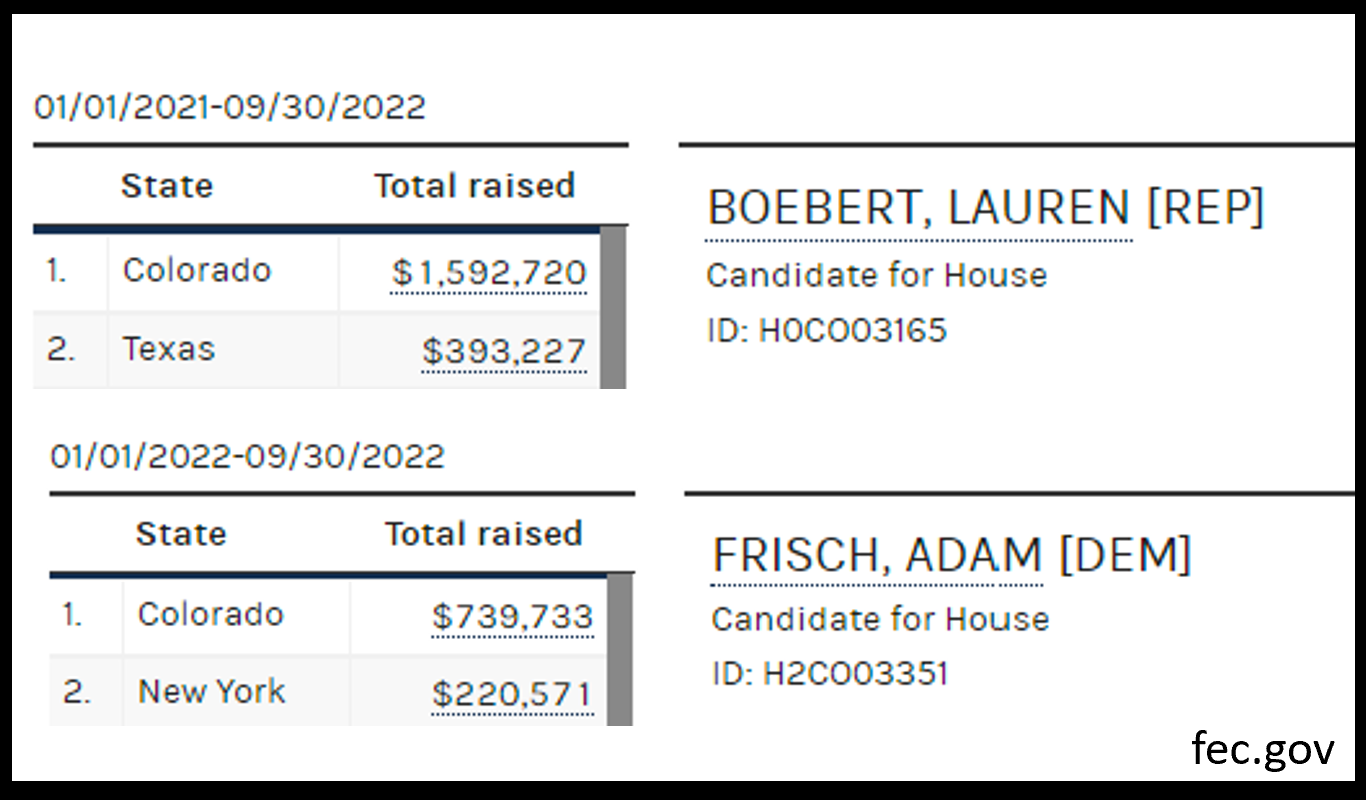 Historic Midterm Results


Questions the reader needs to ask..:
*. Did the Democrat party whose primary voter enthusiam is 1/2 of the Republican party turn it red?
*. Can candidate who barely won his primary turn a deeply red county blue?
*. Can a candidate who under raised the opponent within the state beat an incumbent?
* Could it be that Republican voter felt confident just did not show up for the general?
*. Did she run her campaign well enough to bring back her voters to the polls?